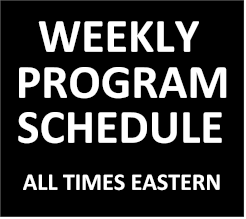 ~ Meet Some of the ArtistFirst Radio Network Family ~
| | |
| --- | --- |
| UFO / Alien Life / Mysteries / Paranormal | Real Estate, Mortgages & Insurance |
| | We talk Real Estate, Finance, The Economy, Mortgages, Insurance, Moving, along with Life Stories and Current Topics. Rick is joined each week by his sidekick and Business Partner, Kathy Parker |
Our Newest Hosts and Shows

| | | | |
| --- | --- | --- | --- |
| | | | |
| | | | |
| 1st Wednesdays 9pm | 2nd Wednesdays 6pm | 4th Tuesdays 8pm | 1st Tuesdays 8pm |
Author Programs
| | | | | |
| --- | --- | --- | --- | --- |
| | | | | |
| Ron Chepesiuk | Doug Dahlgren | Authors-First | Dr. Maxine Thompson | Karina Kantas |
| Author & Screenwriter | Author & Public Speaker | Independent Authors | Author/Editor | Prolific Author |
| Crime Beat | Doug Dahlgren Show | Authors-First | Maxine Thompson | Author Assist |
| Thursdays 8pm | Fridays 11am | Mondays 7pm | Mondays 9pm | 2nd Fridays 1pm |
Christian and Religious Programs
Entertainment & Variety
| | | | | |
| --- | --- | --- | --- | --- |
| | | | | |
| Susan Stackpole | GL Henderson | Jerilyn Champion | Jonathan Steele | Dr. Michael DeFranco |
| Self Growth Expert | King of Relationship Drama | Artist/Author/Poet | Composer/Producer/Musician | Sports Injury Physician |
| YOUnique | GL Henderson Show | Jerilyn Champion | Jonathan Steele Show | Sports Injury Forum |
| Mondays 10pm | 2nd Wed. 10pm | Mondays 11pm | 2nd Wednesdays 5pm | |
---
| | |
| --- | --- |
| Women Abusing Women | ~ Better Living Shows ~ |

| | | | | |
| --- | --- | --- | --- | --- |
| | | | | |
| | Michael and Margret Lynes | | | Ankit Shukla |
| Saturday & Sunday 3pm EST | The Soul Of The Everyman Tuesdays 7pm | 2nd Mondays 7pm | 4th Thursdays 9pm | Live Better Daily 2nd/4th Tues. 8pm |
---
Producer's Choice Shows

To Hear Show Click Name

WALTER KOENIG Walter Marvin Koenig is an American actor and screenwriter. He rose to prominence for his supporting role as Ensign Pavel Chekov in Star Trek: The Original Series (1967–1969). He appeared in all seven Star Trek films.

ERIC BUTTERBEAN ESCH
Former Professional Boxer, King of the 4-Rounders, Former MMA fighter, entrepreneur, Owner of Mr. Bean's BBQ in Jasper, AL.. He joined Ankit Shukla on Live Better Daily.

JAMES PATTERSON world famous author joined Crime Beat to discuss his latest work The Last Days of John Lennon

DAVY JONES
Remembering Davy Jones from The Monkees with one of the last interviews he gave when he appeared on the Chit Chat Cafe'.

joined Ron Chepesiuk on Crime Beat to discuss his new book Framed: Why Michael Skakel spent over a decade in prison for a murder he didn't commit.

Legendary Attorney, including OJ Simpson's council during the trial of last century. A great guest with Ron Chepsiuk on Crime Beat.

Godfather of Conspiracy. (Recently deceased) The Great 911 Deception. Holograms & Direct Energy Weapons. Joined Kevin Estrella on Pyramids on Mars UFO Radio.
ArtistFirst Radio Shows By Category
Have a problem with your Banker? (who doesn't?) Bust 'em! Click Here
ARTISTFIRST IS THE REGISTERED TRADEMARK OF ARTISTFIRST, INC.