Mary Beth Bartholomew

first became involved with programs at the Cleveland Gay, Lesbian, Bisexual and Transgender Community Center shortly after she and her partner moved from San Francisco to that city during 1996. Then, nine years later, she was drawn to the center's SAGE (Services and Advocacy for Gay, Lesbian, Bisexual and Transgender Elders) program as being a place where she could utilize the program development and leadership skills she had honed as an educator. She now heads that program.

Under Mary Beth's leadership, SAGE is currently evolving an Intergenerational Theater project whose inception will coincide with the opening of the center's new headquarters in Cleveland's Detroit-Shoreway neighborhood. During October, 2016, it will be cosponsoring with the Cleveland-based Benjamin Rose Institute on Aging a conference that focuses upon the challenges facing LGBT older adults. And it is constantly trying to reach out to isolated (older) adults in the community.

The center's web site is http://www.lgbtcleveland.org/


Linda Krasienko

Some people interpret the fact that same sex couples now have the right to marry as being a strong indication a sea change in attitudes has occurred. However, Linda Krasienko's views on these matters are somewhat more nuanced in nature. While she applauds the progress that has been made, she still thinks there is still work to be done.

And that is why she has played a major role in the establishment of a retirement facility that is designed specifically for the LGBTQ population and slated to open during fall, 2016.

Located on Cleveland's West Side, this 55-unit project will be affordable, with apartments being priced at between $400 and $800 a month. Ms. Krasienko, president of A Place for Us Development LLC, notes that will this facility will feature a fitness room, meditation room, clinic, office space, lounge, conference room a foyer for art displays plus an outside garden.

Pamella Bittner who will be Linda's assistant once A Place For Us will also be taking part in this interview.

The web site for a Place for Us is http://www.nrpgroup.com
Bob Finnie

When Bob Finnie first opened the Wisconsin-based www.personcare.net during 2008, he did not know quite what to expect. He, however, was not entering into this adventure without having some things working to his strong advantage. His academic background – a BS and an MBA from Marquette University – helped prepared him for that challenge.

By that point, he had already been employed in the health care industry for twenty years. During that period of time, he worked mostly in customer service, marketing, sales and management positions for companies that provided products to hospitals/ long term care communities. And he soon began to realize something that he kept constantly in mind as he directed personcare.net's inception: If these same items - devices like small puzzles and card games, falls prevention, meal time aids and wanderer monitoring. - became m ore readily available to them it would be easier for seniors to continue living at home.


David Nassaney

Charlene Nassaney's life was permanently transformed when she suffered a massive stroke during 1996 that left her severely speech impaired, and paralyzed on her right side.

A woman of great strength, Charlene has come to accept, if not embrace, her challenges as she has rekindled her faith in God. And she has learned to communicate without speaking in ways that amaze and even entertain. David Nassaney, has been by her side throughout her journey, serving as both her caregiver and support.

He and Charlene, are the authors of One Arm, One Leg, 100 Words: Overcoming Unbelievable Hardships which can be purchased through Amazon. He is also host of the radio program Dave, The Caregiver's Caregiver Radio Show which is aired over Star World Wide Networks and provides essential information for caregivers.

His website is http://davethecaregiverscaregiver.com

Mike Saunders

As an Authority Positioning Strategist, Mike Saunders helps his clients, many of whom are business owners, evolve a unified online marketing blueprint. Taking a broad approach, he guides them towards making the most of every available marketing avenue – press releases, radio interviews or book publishing.

By his accounting, gaining credibility through some "shrewd maneuvers" can produce amazing results. It might even result in somebody running a powerful Best-Seller campaign without ever writing a word.

So, what might this mean for listeners who do not have any of these entrepreneurial goals in mind? How can the strategies he teaches help people of any age as they go about their everyday lives? Well, listen to his interview and find out for yourself.

Mike has written several books including The Prism Salvation: A 3-Step Solution to Social Media Domination for Busy Business Owners and Believing Your Why: The 7-Step "morning Huddle" System to Finally Achieve Your Goals!

Bart Smyth

calls himself a modern day shaman. To the uninitiated that designation might sound like a complete oxymoron. How can somebody be a modern day shaman when these healers belonged to a previous (post modern) age? But Bart definitely has found a receptive audience for his work, having assisted 35,000 people worldwide. Many of them have found relieve from chronic and debilitating conditions through his efforts which combine, among other things, Thai Shiatsu, Hansa Shiatsu, Massage, Reiki, Abayanga Massage and Neuro Muscular Movement.

Bart notes that, "I have so much appreciation to all who walked before me, the physical intelligence we have and life in general is Amazing! I know that it is possible to create and recreate new, improved realities and physical bodies."

Bart came to his work as a shaman after he suffered serious injuries in a car accident. He had previously owned a successful architectural design/ construction company in San Francisco.

His web site is http://www.amoderndayshaman.net
Lorraine Perillo

remembers that when she was still quite young her father who was an opera singer owned numerous books on psychology, reflexology and massage. And she would spend many happy hours going through them. These excursions began her lifelong mission to learn as much as possible about mind body connections.

For years she studied about how particular foods can improve your health and how teas can be tonic to the body. She was also fascinated by the extent to which essential oils, exercise, meditation and yoga can bolster somebody's well-being. And in time, she found her true path as a practitioner of Touch For Health which incorporates acupressure, sound diet and massage. This healing technique helps to relieve emotional blocks, making the symptoms of migraines, muscle and back pains, anxiety less acute. She holds frequent workshop in her Long Island headquarters, training participants in the basics of this process.

Her web site is http://www.touchforhealthli.com 516-676-4244



Quamran Taj, CPC

(Q) acknowledges he has treated life as if it was a "restaurant sample," as he tried everything on the menu. His adventures included a stint as a Christian minister, public speaker, counselor and mentor, Interfaith minister, published author, writer, freelance artist, amateur musician, radio host and most recently a Certified Professional Life Coach. His experiences have left him with a strong spiritual faith.

And anxious to share his beliefs with others, he conducts seminars, classes, workshops at his New York State headquarters. His motto: Living as YOU personally were meant to live. Fulfilling your own purpose in life is the key to happiness.

Q remains very proud of his efforts but acknowledges that they are simply a reconfirmation of the ideas sensitive individuals have formed throughout the decades. We are really spiritual beings having a human experience and that we ALL possess hidden abilities.

His web site is http://www.keysofpower.com


Jim Wilkins

Jim's extensive background in the construction trades stretches back several decades; he has worked, at various times, as a journeyman carpenter, senior cost estimator, design and engineering manager. And on more than one occasion, he even helped construct mega-mansions. About five years ago, however, Jim began steadily downsizing both professionally and personally.

He now enjoys living in a tiny house because of the freedom and security it offers him. And his commitment to these structures extends far beyond the mere fact he lives in one. He builds non-toxic tiny houses and micro homes for people who choose to enjoy a sustainable life style. He started his new business – the Minnesota-based Tiny Green Cabins – during 2008.

Priced at between $19,900 and $59,000, the tiny cabins come in various series – Sweet Life Tiny Houses, Breathe Easy Tiny Houses. Some can even be transported on attached trailers.

Jim's web site is http://www.tinygreencabins.com


Dan Barker

A former evangelical minister and graduate from the Azusa Pacific University, Dan Barker, announced during 1984, that he had become an atheist. He subsequently appeared on AM Chicago (hosted by Oprah Winfrey), talking about how he had "kicked the religion habit."

Dan is now co-president of the Freedom From Religion Foundation (in Madison, Wisconsin) which promotes the separation of church and state. He also co-hosts Freethought Radio. Broadcasted nationally over several different stations, this show has welcomed a wide variety of freethinkers - Richard Dawkins, Sam Harris, Steven Pinker, Julia Sweeney, and Michael Newdow.

A successful musician, Barker has composed over 200 songs that have been published or recorded.

His newest book, GOD: The Most Unpleasant Character in All Fiction by Dan Barker. Foreword by Richard Dawkins (Sterling Publishing, Feb., 2016)

To stay young, Mr. Barker plays professional jazz piano, and also walks home from work 3 miles every day.

His web site is http://www.ffrf.org
Linda Krasienko

Having worked over the years as a pastor, counselor and an occupational therapist, Linda Krasienko has compiled quite an impressive resume. But the accomplishment she is most proud of might be one that remains essentially disconnected to her professional experiences. Long committed to this effort, she played a major role in the establishment of a retirement facility that is designed specifically for the LGBTQ population and slated to open during fall, 2016.

Located on Cleveland's West Side, this 55-unit project will be affordable, with apartments being priced at between $400 and $800 a month. Ms. Krasienko, president of A Place for Us Development LLC, notes that this building will be conveniently located near a transit stop. And it will feature a fitness room, meditation room, clinic, office space, lounge, conference room a foyer for art display plus an outside garden.

The web site for a Place for Us is http://www.nrpgroup.com

David Pirtle

David Pirtle was a restaurant manager in Phoenix, Arizona when the symptoms of schizoaffective disorder made it impossible for him to any longer maintain a job or a place to live. Shortly thereafter, he traveled across country, with his journeys eventually taking him to Washington D.C. where he lived on the streets until he was arrested and referred to a homeless shelter.

During the summer of 2006 David and the other clients learned that their shelter was slated to be converted into a boutique hotel. After they organized and launched after a series of successful lobbying events and rallies, it was announced that the facility would be renovated and remain open indefinitely. David now resides in south-east Washington, D.C. and he is active in fighting for the rights of people who are experiencing homelessness and mental illness in the District of Columbia.

David currently heads the Speakers Bureau for the National Coalition for the homeless. His web site is http://www.nationalhomeless.org/faces/bios/davidpirtle.htm
Dr. Dennis McCullough

Medical advances have translated into our living longer than was ever previously the case or even the expectation. But as these advances have emerged, our health care system has become increasingly more reliant upon technology. And not all medical authorities think that is necessarily a "good" thing, particularly for elders.

Among them is family doctor and geriatrician Dr. Dennis McCullough who recommends an approach which he labels Slow Medicine. Shaped by common sense and kindness, slow medicine advocates a hands on approach that relies more upon patience and careful observations than upon technology; comfort rather than cures remain the major goal.

Dr. McCullough is the author of My Mother, Your Mother: Embracing "Slow Medicine," the Compassionate Approach to Caring for Your Aging Loved Ones (New York: Harper, 2008).

He is Honorary Associate Professor, Dartmouth Centers for Health and Aging, Department of Community and Family Medicine, Giesel School of Medicine at Dartmouth, Lebanon, NH.


Lynne Giacobbe

Kendal at Home works closely with seniors and their families, coordinating the support they need to age safely at home. And Lynne Giacobbe, that program's executive director, points with pride to its admirable track record. Only one out of more than 250 elders who have become involved in this effort since it opened during 2004 have ended up requiring permanent nursing facility placement.

Ms. Giacobbe explains that Kendal at Home is simply an extension of the continuing care retirement community (ccrc) concept that Kendal has long espoused. Its (ccrc) centers, which are located throughout the country, offer independent living and assisted living as well as nursing facilities. Many of these facilities are located in college towns, such as Ithaca, New York or Oberlin, Ohio.

In total, Ms. Giacobbe has spent 30 years working in the non-profit sector, focusing on administration and program development. The Kendal at Home web site is http://www.kendalathome.org

Megan Hustings
serves as Director of Operations at the National Coalition for Homelessness. Multitalented, she has handled grant writing, website construction and also developed social media strategies, awareness and fundraising campaigns during the more than 7 years she has worked at that organization.

Almost more than anything else, however, Ms. Hustings remains committed to dispelling myths about homelessness. She notes, for example, that while many people believe food pantries and soup kitchens answer the nutritional needs of the homeless that assumption does not take into account some "harsh realities" this population faces.

They might not have places where they can prepare or store food. And they, likewise, often have mobility and other challenges that prevent them from traveling to these facilities. Or, local ordinances might limit the outreach of these centers.

Founded thirty years ago, the Washington, D.C.-based coalition provides direct services to the homeless and also advocates on their behalf. Its web site is http://nationalhomeless.org/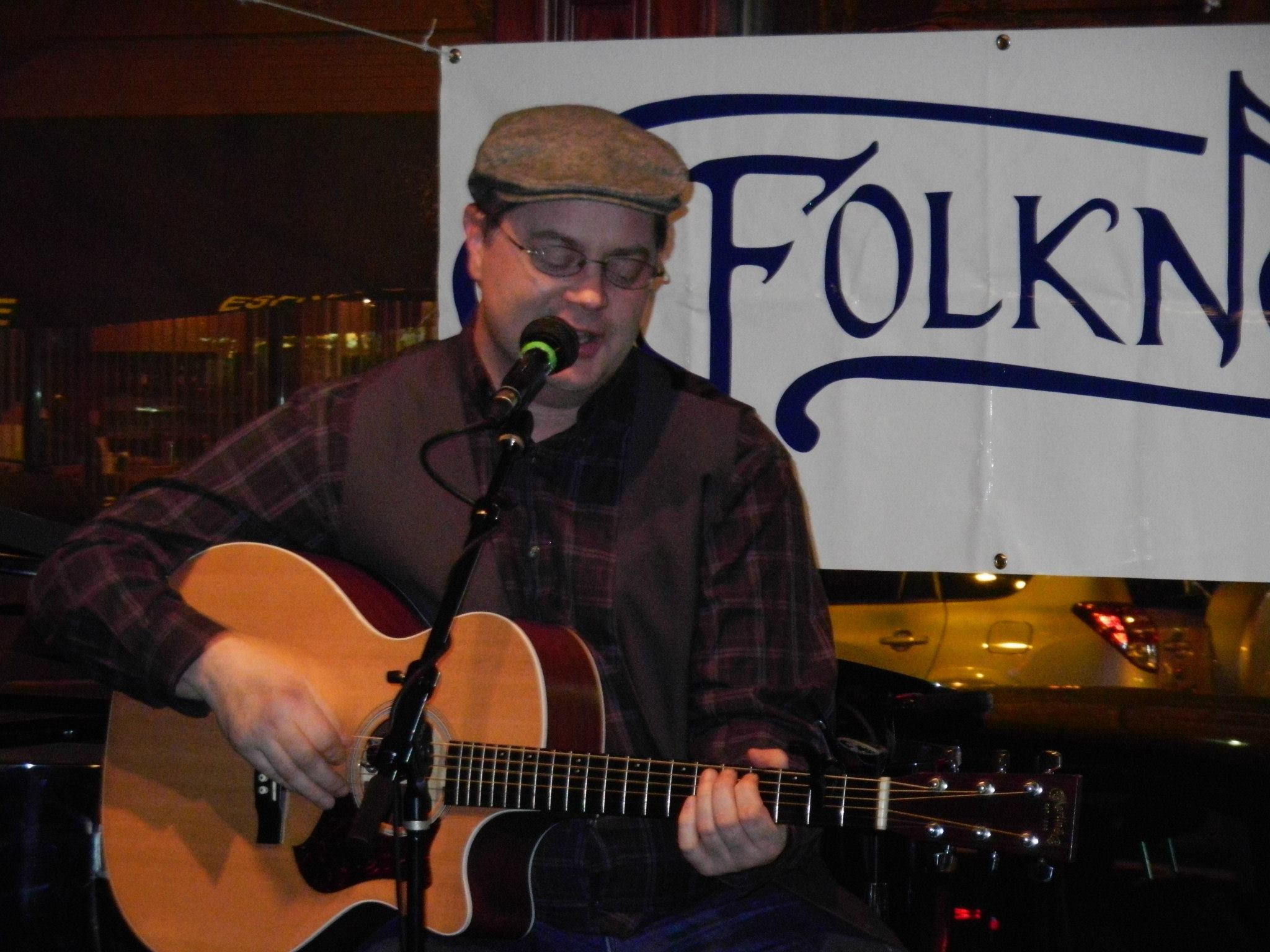 Charlie Mosbrook
Among other things, Charlie Mosbrook is contemporary singer/ songwriter. Strong traditional folk sensibilities, utilizing guitar, mandolin, harmonica, fiddle, banjo and other acoustic instruments, accompany his rich distinctive baritone voice. One highlight of this 25-year career: he was voted Cleveland Scene Magazine's "Best Singer Songwriter" in 2011.

Heard throughout the world, his music has been featured on radio programs such as FolkAlley.com and The Midnight Special national folk show. His newest CD Something To Believe (2013) was recently picked as CD of the week by Rich Warren for WFMT's Midnight Special.

In addition to his musical pursuits, Charlie has completed multiple Ironman triathlon's and marathons. Since becoming an incomplete quadripaligic in 2010, he has remained active with the use of a handcycle and as a swimmer. In an effort to give hope to others who have suffered similar injuries, he regularly performs for patients recovering at Cleveland's MetroHealth Spinal Cord Injury unit.

His web site is http://www.charliemosbrook.com


Jim Swanner As a teacher, instructor, communicator, keynote speaker, clinician, writer and host of 'All About Horses' radio, Jim Swanner is dedicated to spreading the word about what he calls "natural horsemanship." This technique helps humans communicate with horses and horses communicate with humans. Jim acknowledges, however, that reaching it can take riders a life time to reach this level of sensitivity. But he believes that the dedication working towards this goal pays off in big dividends. His web site is http://www.jimswanner.com

Deanna R. Adams is a multi-published author and speaker, whose latest novel is Scoundrels & Dreamers, the sequel to her debut novel, Peggy Sue Got Pregnant: A Rock 'n' Roll Love Story. Her first book, Rock 'n' Roll and the Cleveland Connection (Kent State University Press, 2002), was named a finalist for the Ohioana Award for nonfiction, and the ARSC Award (Association for Recorded Sound Collections) for excellence in research. Other books are Confessions of a Not-So-Good Catholic Girl (Infinity Publishing, 2008) and Cleveland's Rock and Roll Roots (Arcadia Publishing, 2010). Deanna is also an instructor and event coordinator at Lakeland Community College, and instructor for the Cuyahoga County Libraries Lit program, where she speaks and teaches on a number of writing topics. Her website is: www.deannaadams.com

Frank Sansom's personal experiences caring for family members led him to form Senior Care Authorities which helps families find an appropriate (residential) placement for their elder. These days, there are many available options – assisted living, independent living - and the number is constantly growing. So, making these decisions can become daunting if attempted without professional guidance. Frank also hosts a weekly radio show called "The Aging Boomers" which educates family caregivers and seniors on pertinent issues facing them and makes them away of important resources. Prior to starting Care, Frank was a veteran of the travel industry for 34 years. http://www.seniorcareauthority.com


Laura Mitchell serves as the Chief Marketing Officer for the Wisconsin-based GrandCare which manufactures technology that connects elders with their caregivers, allowing careful tracking of their progress. And her marketing skills will be put to the test as the company evolves both nationally and globally at a rapid pace. It is currently balancing several large international contracts including one with Saga, the UK's largest in-home care provider. In early 2014, GrandCare entered Canada, joining forces with the in-home care organization Proof of Care. And it is working together with a major homecare franchisor in Australia. http://www.grandcare.com


Jill Mattson first began studying Sound Healing and its ability to bring minds, bodies, emotions, and energies into better balance more than 20 years ago. Since that point, she has studied this field extensively on her own and has also interviewed leading experts in this modality. And she has turned what she has learned into ongoing efforts to benefit people by practicing this modality. Since the early 2009s, she has worked out of a studio in her home, recording compositions that blend her original music with ancient techniques. Jill's Deep Wave Beauty was a finalist for the COVR Specialty CD of 2012 award.

Donna Seebo has found many outlets for her natural talents: communicating with others and helping those with whom she connects to grow spiritually. She published an award-winning illustrated children's book, "God's Kiss." Along with other texts, including "Mind Magic" and "The Miracle of 8 Pennies," it is available at www.mrsseebosclassics.com. Since April of this year, she has hosted a radio program on her own station, Delphi Vision Broadcasting. Go to "The Donna Seebo Show for archived broadcasts. During September, 2014 she will be starting a new program "Warriors for Peace" that will feature veterans and others from around the world who are striving to achieve what many view as being an impossible goal: peace.

Mike Bentley is an Insurance Broker/Consultant who is active in working with non–for-profit organizations and small businesses in providing health insurance and other group benefits. He is also very active in assisting seniors with their Medicare questions and coverage needs. He established the Group Benefits Department at The Brooks and Stafford Company in 1998, where he not only continues serving today as Vice President, but he is also an active educator. Mike teaches continuing education courses for insurance professionals in Ohio and is also a frequent speaker on health insurance topics. He is licensed in multiple states and has his office in downtown Cleveland, Ohio.

Joel Wrobbel began working with older adults in 1985 while guiding an intergenerational ministry with older adults and high school youth. Joel graduated from Moody Bible Institute in Chicago Illinois with a focus in Pastoral Studies. He earned a Bachelor of Arts degree in Public Administration with a concentration in Health Services from Roosevelt University in Chicago, Illinois. He also holds a Master of Business Administration from North Park University in Chicago, Illinois. Joel has experience serving older adults through his work as a nursing home Psycho-Social Director and providing leadership as a General Partner for a senior living company. He has served as a Director of Resident Services for an independent living community and as a Marketing Director for two continuing care retirement communities. Joel became an Associate of the Eden Alternative in 2005 and is passionate about spreading the message of culture change. Since 2001, Joel has served as the Marketing Director at Westminster-Thurber Community in Columbus, Ohio. To learn more about the Ohio Presbyterian Retirement Service visit www.oprs.org

Dr. Steven Zarit
Zarit is a Pennsylvania State University professor, has conducted extensive aimed at finding ways whereby family care givers can reduce the stress they are they are experiencing. His most recent studies focus upon the benefits that caregivers derive when their elder attends a day care facility. This arrangement not only grants them a valuable respite from their care giving "responsibilities," it also provides them with a support system. His studies indicate that having this support results in caregivers' level of stress hormones decreasing.

Dr. Zarit developed the Zarit Burden interview that measures the extent to which care giving might be placing a "burden" upon those who accept this "responsibility." This instrument has been used extensively in both therapeutic and research settings. His web site is http://www.hhdev.psu.edu/profile/StevenZarit#sthash.1jF9yHaX.dpuf

Paul Malley
Paul Malley is President, Aging with Dignity, a national non-profit organization with a mission to affirm and safeguard the human dignity of individuals as they age and to promote better care for those near the end of life. The life and work of Mother Teresa of Calcutta served as the inspirational foundation of Aging with Dignity. The Florida-based organization is best known as the creator and distributor of the Five Wishes advance directive, of which there are currently more than 20 million in national circulation. Five Wishes is easy to understand and use and addresses all of a person's needs – medical, legal, personal, emotional and spiritual. It's been called "the living will with a heart and soul." You can preview Five Wishes by visiting www.agingwithdignity.org.

Paul Malley and the work of Aging with Dignity have been featured in national media including the CBS, NBC, and ABC evening news, CNN, MSNBC, NBC Today Show, Good Morning America, USA Today, The Wall Street Journal, The New York Times, Newsweek, Time, and Consumer Reports.

Dr. Georgina Cannon
Georgina is an award-winning, board-certified, master consulting hypnotist. An accredited life coach, she is recognized as the public face and respected member of Canada's complimentary health community. In recognition of that fact, Georgina has appeared as a regular guest on national and international television and radio programs.

During 2004, Shirley MacLaine read Georgina's first book, RETURN – Past Life Regression and You, and contacted Georgina for a radio interview. She subsequently invited Georgina to host her chatroom a few times a year.


Suzanne Caplan
Suzanne Caplan who serves as the Founder and CEO of The Community Center for Aging in Place (CCAIP) is uniquely equipped to help this organization reach its goal of upgrading services for seniors in Southeastern Pennsylvania. She is the author of 13 books on business techniques, including her most recent volume - Strong Women: Confessions of a Smug Feminist.

Ms. Caplan has also presented seminars throughout the US and the UK. Suzanne, providing older entrepreneurs with guidelines that will help them make their business more efficient.