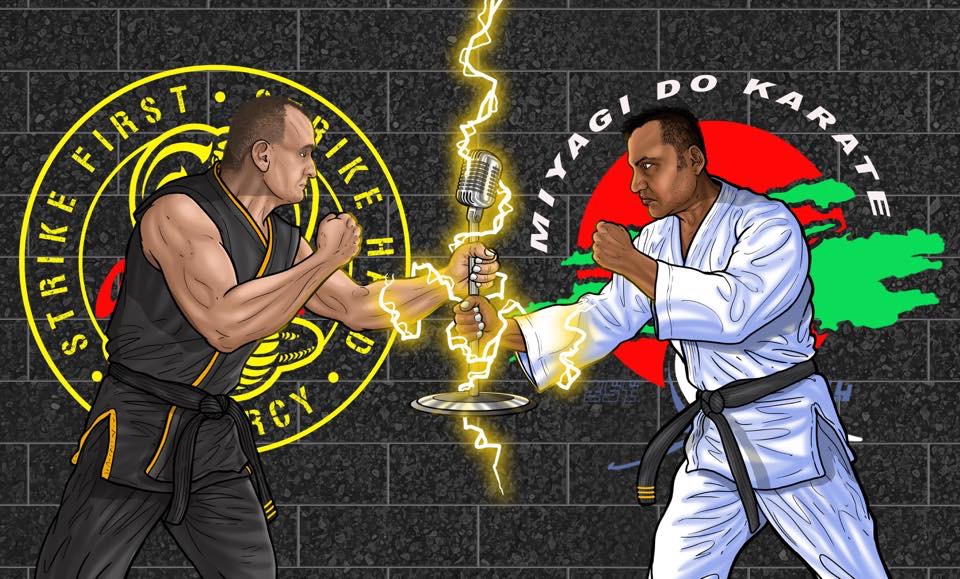 First & Third Tuesdays 8pm Eastern / 7pm Central
~ All Past Shows Are Below In Podcast Form~
Hosted by: Ankit Shukla and Kevin Chornohos
Email the Dojo LIVE or anytime: dj@artistfirst.com
The Karate-Kai Connection thanks music composer and producer Kyle Laurin, for allowing us to use his work as our new theme music!
---
Listen To Past Shows Below
2 Ways to listen to past shows:
1. Click date to "Stream" show (it will play like the radio) or . . .

2. "Right Click" on date then select "Save Target As" (or similar - 'save link as' etc.) and a copy of the show will download to your device which you can then play anytime.

---
Kevin and Ankit bring us up to date on the latest CK.
Special Guest: Dominick

Discussing the Cobra Kai season 3 Trailer.
November 17, 2020 First Anniversary Show Part 1

Special Guest: Susan Gallagher

Actress and the character "Homeless Lynn" in the Cobra Kai Series

Special Guest: Matt Borlenghi

Matt plays the character "Pawnshop Guy Lyle" on Cobra Kai. He shares his experiences on set of Cobra Kai and his acting background.
Season 3 Sneak Peek

Special Guest: Jonathan Hunter
Special Guests: Helen Irving and Robert Henry.

Discussing the Women of Cobra Kai.

Phil Cancilla joins Ankit

to discuss the character "Hawk" from Cobra Kai.

Special Guests:

Mike Young and Phil Cancilla
Special Guest: Brihana Davidson
Season 3 Predictions
Mike Young and Shay Richards



Mr. Miyagi
No, he was not a guest on our show, but rather the subject of this episode.
We are VERY hopeful, at some point, Mr. Miyagi will stop by for a visit.
---
Return To ArtistFirst Radio Homepage